Hen parties in London!
Crafty hens and the Blitz Party
Cassie from London went on Ellie's hen party in May 2012 - read what they got up to on the blog....http://www.henpartyhelp.co.uk/blog/london-ellie-s-hen-do
Cocktails, private dining and an afternoon at a spa
Kate from London organised Caroline's hen do earlier this year and has written about what they did on the blog...http://www.henpartyhelp.co.uk/blog/hen-party-in-london
The V&A, cocktails, private dining and The Roadhouse!!
I was a bridesmaid for Liz a few years ago and this is what we did for her hen party in London....
London accommodation
We stayed at the Hilton hotel near Euston train station, so in the day we got around by tube and then at night we just got taxis back after the nightclub.
Other hotels in London
There are lots and lots of hotels to choose from in London, so I would first suggest trying to find a suitable hotel near a tube station in zone 1 - that way the taxi home won't cost you an arm and leg. The chain hotels can be good bargains, just make sure you're not staying somewhere near, say, Heathrow airport as this is in Zone 5!
Saturday day - the fashion tour
London started with a special fashion tour at the V&A Museum, and lunch in their very impressive (but busy!) tea rooms. If you call the V&A (Victoria and Albert) Museum with a special interest in mind, then they might be able to accommodate it with a special tour - and ours only cost £100 between us. The V&A itself is free to get in to (as are most museums in London) and it does have a special fashion section to it.
Saturday night - cocktails and private dining in London
Saturday night kicked off with cocktails in the Lab Bar near Leicester Square. As we were 20 girls, I gave the bar a call a few weeks beforehand and we were able to book a small seated area for a couple of hours.
Dinner was in a rather chic private dining room called Icognico on Shaftesbury Avenue near Leicester Square. The room could seat up to 20 people around an oval table. They also have full AV facilities and I was able to play in my hilarious (!) JibJab video. They also have a CD player so you're able to play in what ever music you choose. The meal had to be pre ordered but we thought it was all definitely worth it - you know ladies, just like those hair products. Come on girls (in a Geordie accent), because we're worth it.
For another review of Icognico, check out our blog which has details as to what Kate from London organised for her best friend's hen do (clue - it also involves cocktail making and a spa day!)
http://www.henpartyhelp.co.uk/blog/hen-party-in-london
Private dining rooms in London
We booked Icognico because it was perfect for 20 of us but other private dining rooms we checked out that looked equally as nice were at
Elena's L'Etoile on Charlotte Street, and
Bam-bou just at the end of Charlotte Street.
Both are near Tottenham Court Road.

More private dining rooms to follow. Would you like me to make a booking on your behalf and negotiate you the best deal? Then please email me at help@henpartyhelp.co.uk
Saturday night - clubbing in London
After this classy meal we then went on to the cheese fest known as The Roadhouse nightclub in Covent Garden. As this place can get rather busy, I phoned up a couple of weeks beforehand and made sure that we were on the guest list. This meant we didn't have to queue for as long, but think it still cost us a tenner each to get in.
Be warned - this is definitely a cheesy (rather than a trendy) nightclub but we certainly had a laugh. Blurry finish. Especially for the bride to be.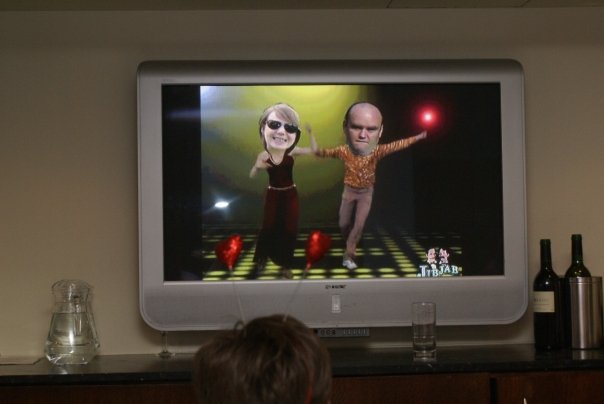 Special touches
They allowed us into the room beforehand to decorate it - this can certainly add to the atmosphere.
Jib Jab videos - definitely worth the effort of making them and burning on to a disc if you have the time. Can produce hilarious results.(see above)
Badges - we had pin badges professionally made and these were definitely worth the expense.
Drinks coasters - we had these professionally made (by Snappy Snaps) with brilliant photos of the groom to be. And I'm sure the mother, sister and best friends of the groom took these home as keepsakes!
Our friend made a brilliant game, which saw three girls at a time (always including the bride!) having to undertake various tasks and then being marked out of 10 by a panel of hen do judges!
For the Mr and Mrs quiz we actually filmed the groom to be giving his answers and played these to the bride to be!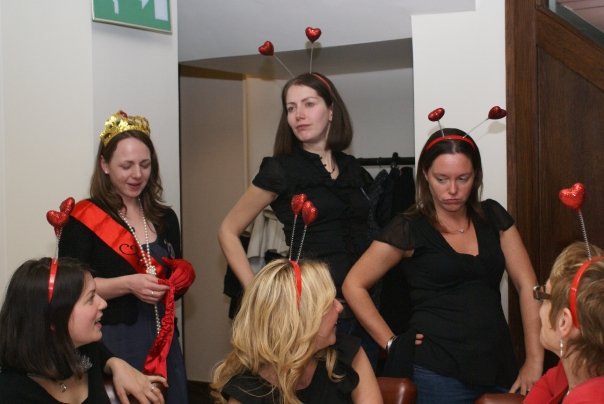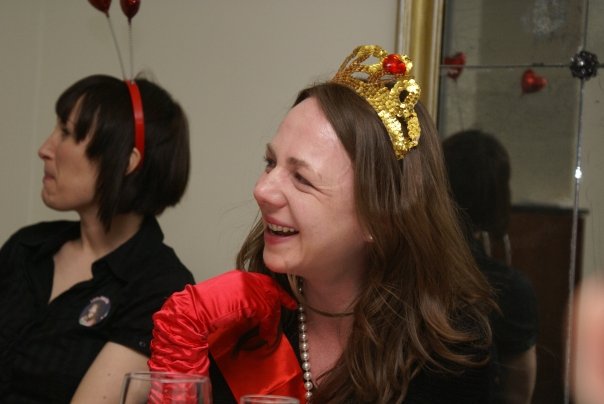 This hen do was arranged for Liz, and this is what she had to say about it .....
"As the lucky beneficiary of this particular hen do, I just wanted to add a note to say how much I enjoyed the day that my fabulous bridesmaids organised for me.
In particular the guided tour of the V and A's fashion galleries was such a brilliant idea – something that I would have never thought about doing myself, but which really appealed to my interest in clothes and worked really well for the mixture of friends and family who came along. The private dining room in Incognico was equally inspired. It worked so well, enabling us to play a few party games and for guests to get to know each other – and a blessed relief for the multitude of loved-up couples who looked over in horror as we all trooped into the restaurant sporting love-heart head bangers (my hen do took place on Valentine's Day!).
All in all, it was a great day and a great send-off into married life – my bridesmaids really did me proud and I was really touched by the effort and time that they had obviously put into planning it!"
Other ideas for London
Karaoke
Another great hen do I went on in London was where we ended up at Lucky Voice near Leicester Square doing karaoke. Here you hire the room, and you have to have a meal there too (Chinese - yum yum) but ingeniously in each room is a screen and two wireless mics and you can basically sing until your hearts are content!!
Another place to do karaoke in central London is K Box in Leicester Square.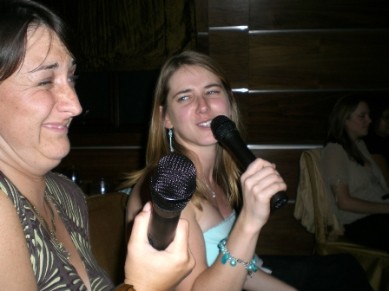 Angel, Islington, London N1
There's also another Lucky Voice on Upper Street in Angel which is a lovely area just north of Kings Cross in London. You will need taxis if you want to go into central London afterwards and this will cost quite a bit. But there are loads of pubs, bars and restaurants on Upper Street in Angel if you want to base one of you nights around there. Definitely worth looking at. Angel is also a tube station in zone 1 and there are a few hotels near here.
If you do stay in Angel, there is also a beauty therapy place called Angel Therapy Rooms which I believe you can hire out for hen parties.
The London Eye and the OXO Tower
Anna from Bristol had her hen party in London and this is what she had to say about it
"We met up on Saturday morning at a local pub and it kicked off with a game of Mr & Mrs before I was given a clue to the next location – which was lunch at Liberty's. Then we headed onto Oxford Street to the Nail Bar in Top Shop. After a cup of tea and cake in a local café we headed to the London Eye where we met up with the stag party and shared a pod for a trip round on the London Eye. Then we split up again and the girls headed to the bar in the OXO tower for a cocktail and then to Baltic for dinner. It was lovely that people could drop in/out for the times that suited them and the clues I was given to each location were really fun. Those and the quiz were on lovely decorated cards which were put in an album for me with photos of the hen do afterwards. I really enjoyed not knowing what was coming next and it included some of my favourite locations. We had my Mum along so it didn't get too raucous but it was very girly and fun."